Description
Product Structure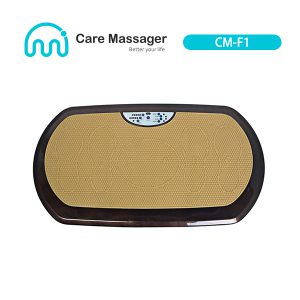 ①Controller Panel
②Feet Pad
③Power Switch
④Select Mode Indicator Light
⑤Speed Indicator Light
⑥Time Indicator Light
⑦Remote Control Signal Reception
⑧Experience Mode Indicator Light
⑨Element Mode Indicator Light
⑩Comfortable Mode Indicator Light
⑪Warm-up Mode Indicator Light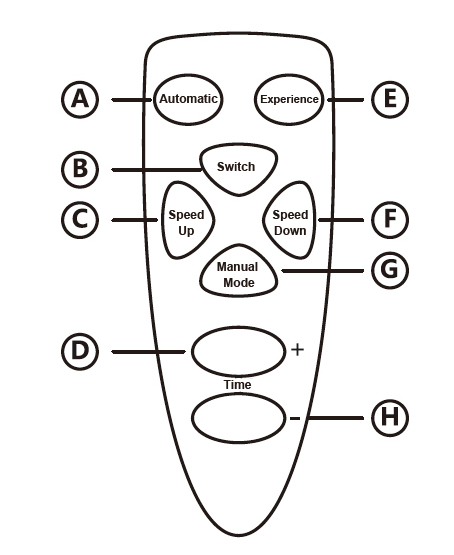 A. Open the automatic mode
B. Switch start
C. Speed strengthen
D. Time enhance
E. Open experience mode
F. Speed less
G. Open manual mode
H. Time shorten
Operation guidelines
Please read the following items in detail before starting to use this product. This product only USES 220-24ovac, 50Hz/6OHz power supply, please check whether your home voltageis consistent with the product specification.
Connect the AC power plug to the power socket and start the main power switch.
If you want to switch the power to standby mode, please press down the power switch button under the control panel
Stand on the foot pad and select the function you want to use.
The default time is 10 minutes.( light signal: single number is flashing lights, double number is Constant light)
Can adjust the speed of vibration , total of 10 speed options
Intelligent mode (4 intelligent modes for selection)
Intelligent model
1. Press the switch on the control panel or on the remote control device to start
2.
1) press on the intelligent mode witch on the remote control device to select 1-4 intelligent mode
intelligent mode 1– warm up
Intelligent mode 2– comfortable
Intelligent mode 3– element
Intelligent mode 4– experience
2) If do not use the remote control, use the switch on the control panel also can select the intelligent mode
3) The control panel correspond intelligence mode indicator will be lighted up , these intelligent mode with different vibration strength, and the vibration strength of element intelligent mode will be the weakest
4. It will close automatically after using 10 minutes.
Manual mode
1. Press the manual mode button on the remote to select the manual mode.
2. Press the speed button on the remote control to select different vibration speed.
3. Press the time button on the remote control to select different time lengths.
In order to make you identify the selection function easily , please refer to the indicator beside button.
Operating and Function Explanation

Intelligent Mode: Comfortable

Intelligent Mode: Element

Intelligent Mode: Experience

Usage: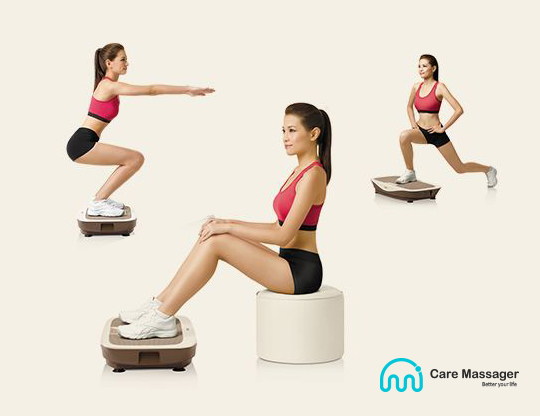 1. The legs should be separated from each other, and the shoulders should be wide and erect, which can strengthen the vibration of the key areas such as the waist and buttocks.
2. The knee is bent on the product, and can make effective vibration on the large legs.
3. Sit on a chair or sofa and place your feet on both sides of the product, while simultaneously aiming at both thighs and calves.
4. On the carpet, the lower leg is placed on the product, the body slightly backward, the hands support, can be aimed at the calf vibration massage.
5. Two arms are separated, hands are placed on the product, knees on the carpet, leaning forward, can be used for massage on the shoulder.
Specifications
| | |
| --- | --- |
| Product name: | Vibration Platform Machine |
| Production type: | CM-F1 |
| Rated voltage: | AC220-240V, 5OHz/60Hz |
| Power consumption: | 90W |
| Rated work time: | 10-20minutes |
| Product size: | 77.5*43*14cm |
| Net weight: | 17KG |
| Gross weight: | 20KG |
| Outer pack size: | 87*52.6*17.5cm |
| Qty /case : | 1 piece |
Our products have acquired the CE Certification and obtained the patent certificate.
| | | |
| --- | --- | --- |
| | | |
| Our foot massager have acquired the CE Certification 9276 | Vibration Platform Machine have acquired the CE Certification 9763 | Vibration Platform Machine have acquired the CE Certification 9764 |
| | | |
| Our Foot Massager has obtained the patent certificate. | Vibration Platform Machine has obtained the patent certificate | |